ECR Lectures Sponsor
DuluxGroup is a leading marketer and manufacturer of premium branded products that enhance, protect, and maintain the places in which people live and work. Dulux Australia develops and manufactures a range of paints and coatings for the Australia and New Zealand markets, which are sold into home DIY and trade markets under various brand names including Dulux, British Paints and Cabot's. We are headquartered in Clayton, Melbourne, where our Innovation Centre is also located.
ECR Lectures Sponsor
Anton Paar develops, produces and distributes highly accurate laboratory instruments and process measuring systems, and provides custom-tailored automation and robotic solutions. It is the world leader in the measurement of density, concentration and CO2 and in the field of rheometry. Visit us at the 38APS to learn more about our range of solutions for polymer research and industries, including chemical identification using Raman technology, scratch, indentation and tribology tests on polymeric films, as well as our MCR702e MultiDrive – the world's most versatile platform for dynamic mechanical analysis and rheological investigations!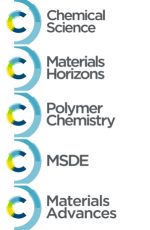 Conference Supporter
The Royal Society of Chemistry (RSC) is a learned society with the goals of advancing excellence, connecting chemical scientists and shaping the future of the chemical sciences for the benefit of humanity.
The RSC is a not-for-profit publisher, publishing over 50 world-leading journals that span the chemical sciences. This meeting is specifically sponsored by Chemical Science, Materials Horizons, Polymer Chemistry, MSDE, and Materials Advances.
Founded in 2004, Magritek is the global leader in cryogen-free benchtop Nuclear Magnetic Resonance (NMR) spectrometers for the analytical instrument market. Magritek's revolutionary 90 MHz, 80 MHz, and 60 MHz Spinsolve models offer the highest sensitivity and resolution available in the market. These portable systems are easy to use, allowing modern NMR methods to be performed on the chemistry lab bench or inside the fume hood next to a reactor. Spinsolve NMR spectrometers are used to quantify and identify sample compositions, confirm reaction completion, elucidate unknown molecular structures and measure molecular mobility for polymer and battery research.
The "Analyzing & Testing" business unit of the NETZSCH Group (est. 1873, Germany) develops and manufactures a complete high-precision instrument line for thermal analysis, rheology, cure monitoring and fire testing, as well as offering world class commercial testing services in our laboratories.
Our innovative technological leadership and uncompromising quality standards make us one of the world's leading manufacturers in our trade.
TA Instruments, a division of Waters Corporation, is the leading manufacturer of analytical instruments for thermal analysis, rheology, microcalorimetry, thermophysical properties and physical testing. Applications cover advanced material characterisation, batteries materials and testing, life sciences and pharmaceuticals and environment. Alphatech Systems have been a partner with TA Instruments in New Zealand for the past 25 years and offers full range of services, innovative instrumentation and consumables that support academic and research institutes, and multiple industries.